All of the tests we offer are approved by FDA under the Emergency Use Authorizations and are subject to their own limitations.  But without a doubt, they are the best in accuracy that are currently available in the market.
All tests require a physical exam.  Not all infections are COVID, so the patient will be examined by a qualified medical provider each and every time.
Insurance Information
Although most Covid related visits used to be covered 100% by your insurance without any copay or deductible, that is no longer the case with most insurance companies.  Please check with your own insurance company to make sure.
Government Funding
Also as of March 22nd, 2022, there is no longer any government funding available for un-insured for COVID related illnesses.  The vaccines remain free of charge regardless of having insurance or not.  As well as the cost of Paxlovid.  Although, those funds may soon be ending as well.
Please refer to FDA website for all of our tests' letters of Emergency Use Authorizations and other useful information.
TO GET YOUR RESULTS FASTER, PLEASE MAKE SURE YOU HAVE ACTIVATED YOUR PATIENT PORTAL WITH US.
New Vaccine Information
Current vaccines available at all of our locations for COVID-19 for those who qualify:
Pfizer, MRNA vaccine, for those ages 5 and up
Moderna, MRNA vaccine, for those ages 18 and up
Novavax, made similarly to the traditional Flu vaccine, not an MRNA vaccine, for those 12 and up
Moderna/SPIKEVAX (starting 9/3/22), MRNA vaccine, has additional protection for Omicron, given as a booster only for 18 and up
We now have limited doses of Monkeypox vaccine for those who are at high risk.
Our goal is to Examine you, test you, and IF you have COVID-19 and are considered high risk, then offer you the treatment that is best for you, all within the  same visit and without an appointment.
Testing
Rapid COVID-19 PCR (can also be used by most airlines for travel), results in 15-20 minutes.
Rapid COVID-19 Ag (also can be used to determine the ability to go back to work), results in 10-20 minutes.
RT-PCR COVID-19 testing (this is sent to lab and we usually get the results in 24-48 hours depending on the labs ability to keep up)
Treatment
Paxlovid, given free of charge.  This is an oral medication which is made up of a 5 day regimen.   Some patients are not able to tolerate due to multiple drug to drug interactions with this medication.  Some cases of re-activation/retaining of COVID-19 virus even after completion of the course.
Remdesivir, given IV once daily for 3 days.  We do not offer this treatment.
IV Monoclonal Antibodies; there are currently none that are authorized to be used for treatment of COVID-19 in the United States.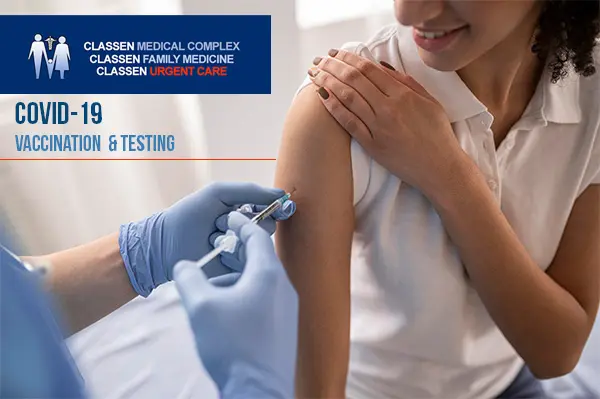 AVAILABLE COVID TESTS
Rapid PCR by Abbott ID NOW:
Results in 15 minutes. Most AIRLINES accept this as the test of their choice.
Rapid Antigen Testing:
By Veritor or Quidel with results in 15 minutes. This is another method to check for an acute COVID infection. (Also accepted by some Airlines.)
RT PCR:
A test done by an outside lab. This may be the only test that your airline would accept. We can get these results usually within 24-48 hours.
Steps we have taken to keep you safe during your visit
All of Classen Medical's locations are dedicated to prioritizing staff and patient safety. As a result, all staff must wear masks that securely cover the nose and mouth at all times while inside our facilities.  All patients and the visitors are highly encouraged to do the same.  In addition, we do the following for your health and safety:
We clean all surfaces frequently and all patient rooms in between uses;
Our facilities use air purification with UV-C Light Technology;
Each location limits the number of people in exam and waiting rooms.